We have a new shoe obsession: The WonderWelly Rain Boot. Yes, they truly are as spectacular as they sound. Explore the great outdoors with long wholesome walks in nature or stay dry and warm at your next muddy festival in what we're pretty sure are the most comfortable rain boots out there. You may be thinking, how much wonder can one pair of wellies have? Well, let me tell you, it can have a lot of it. Fitflop has completely reinvented the rain boots and we're totally on board with the fresh design and comfy fit. Let me tell you why!
Fitflop - made for living in 

Fitflop is much more than your average shoe brand, making sure (with a whole bunch of cool science) that every pair can be worn all day and still feel comfortable. They use Biomechanics to promote optimal body alignment and complete your natural walking style. Sound impressive? Wait till you see how stylish they are too. We've got a broad selection of Fitflop Shoes on Fashiola, both for men and women. Discover everything from comfy sneakers, sandals, and boots. 
*Shoes for Superwomen at FitFlop.com! Get 20% off your first order with code: NEWADDICT*
About the WonderWelly Rain Boot
They are actually comfortable 

Notoriously, rain boots are not the most comfortable shoes. They might be practical and keep you dry, but they're not exactly a treat to your feet. Fitflop has revolutionized the rain boots by making them as comfortable as possible with cutting-edge technology and new design features. 
The Human Performance Lab in Calgary has rigorously tested the Fitflop boots to design them to perfection. Here are some seriously impressive features:


When you walk in these boots your weight will be distributed evenly
The hollowed-out heel is filled with their innovative honeycomb design to absorb the impact of every step
'Springboards' are placed in the forefoot to help put a spring in your step - literally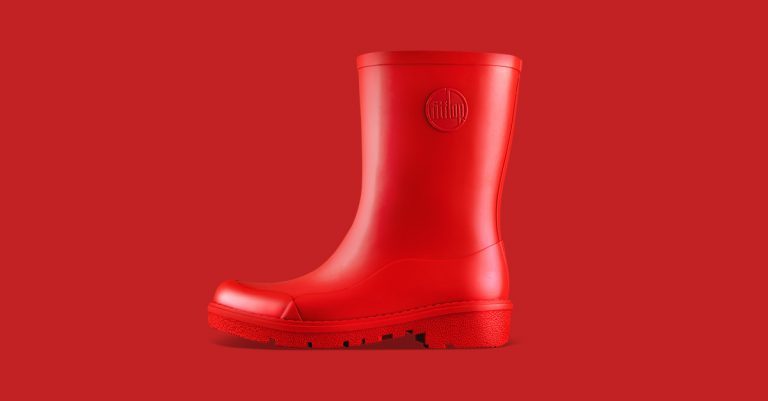 There's serious science involved 

Turns out, science can be super stylish. If you're wondering what put the wonder in the WonderWelly Rain Boot then the answer is biomechanics. They have taken what sportswear brands are doing for a long time with sneakers and applied it to these boots, applying mechanical principles to the moving body. That means these rain boots will not only feel good on your feet but they work with your body - staying comfortable the first time you slip them on and at the end of a long day walking. 
They come in 2 heights and 6 colors 

You can pick between tall or short, whichever you feel suits your style more! Whether you're looking for something more classic or traditional or a fun addition to your outerwear gear, you're spoilt for choice with a stylish range of colors - shop Fitflop Shoes on Fashiola!