Styling summer dresses with sneakers used to be a big fashion no-no. But this summer we watched cool Scandi girls parade down the streets with stylish Ganni dresses and chunky sneakers. Flicking through the streetwear style shots we thought wait a sec, we can do that now? Yes girls, blisters no more, it's time to give those florals some Scandi-girl attitude.
What Sneakers go with summer dresses?

I'd say that any pair of sneakers go with a summer dress. It just depends on what style you're going for. Your safe best though is always a pair of classic white sneakers. They'll go perfectly with a light, summery palette and won't take the attention away from your dress. You could also go for the other way around and take a simple, stylish dress and match it with bold chunky sneakers. I've got four tips lined up for you to nail our favourite outfit formula.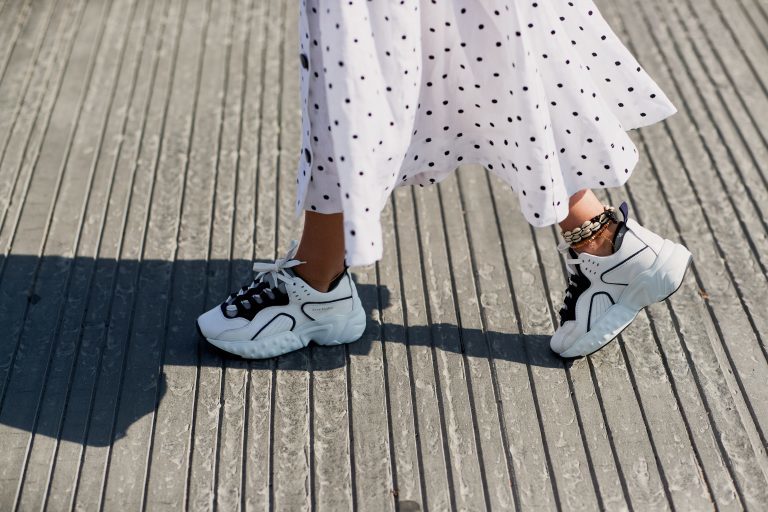 Match white sneakers with summery colours
For us clumsy folk, the only thing that can go wrong with white sneakers is stepping into a muddy puddle or dripping you raspberry sorbet on them (both have happened more times than I'd like to admit). Besides that, you're good to go because they will suit anything and make it extra easy to turn your fancy summer dresses into daywear staples. Yep, that dress you wore once to a wedding is now suitable for brunch dates and office wear. I love matching simple white converse or white Veja sneakers with elegant silk or floral dresses, as they are subtle enough not to make too much of a statement-making contrast.
Go full-on monochromatic streetwear style


Looking for a fun, bold outfit? Create a full monochromatic look by wearing sneakers in the same colour as your summer dress. If you really want to go all out, why not throw on a bucket hat of the same colour? You can take it as far as you want. This look is only really fun when done in bright or sweet pastel colours, so a full black or full white outfit doesn't count. I'd go for pastel colour to feel like a pretty popsicle with extra chunky sneakers for that streetwear edge
Make a statement in chunky sneakers  


Honestly, this is one I didn't expect to actually work. But ever since I started doing it, I've become obsessed. It's easy, it's fun. It makes my boyfriend question my decision-making skills, but who cares. There are more than plenty of options out there to pick a pair of chunky statement sneakers you'll love. You could go for the in-demand Fila platform shoes or the Scandinavian girl's favourite: Etys sneakers. Wear it with a feminine midi skirt, any of your favourite summer dresses or really go full-on mismatch with a floral mini dress.

Dress it down with Sporty Running shoes


If someone would have told me a year ago this was going to be a thing, I would have told them to go for a run and come back when they have come to their senses. But It's happening. It's really happening and I think I'm convinced. This is one of the 2019 sneaker trends that is really taking street style by storm.  Yes, those running shoes, your favourite comfy pair of Asics sneakers can now be worn under a pretty dress. I like this summer trend the most with any of the colourful patterns that are on trend right now. 

24S Sale 
Now for the cherry on top... One of our favourite online shopping destinations for luxury designers 24S is having a huge sale. And yes I've checked if they have the trendy Ganni summer dresses, dad sneakers and all the other 2019 sneaker trends. Click away my friends, you won't regret it. 
shankavi 08/25/2020

These summer dresses are looking very pretty. I love to wear it. It is so stylish and cool. Perfect for every occasion. I glad to share our thoughts with you.
Enjoy the sunshine in the ultimate summer dress at Goddiva. We have a beautiful range of modern designer summer dresses in our collections. Get ready to buy summer dresses with us. Shop your summer outfits at Goddiva. Visit: https://www.goddiva.co.uk