Are you thinking about different ways to wear a pleated skirt outfit for the holiday season? Well, that's an excellent idea! You don't always have to wear a dress for a special holiday outfit. We love women's pleated skirts because they are so feminine and you can make it work for both casual and festive outfit – which is why women's pleated skirts are the perfect choice to buy now and still be able to wear all year long (which is not necessarily true with a fancy dress!)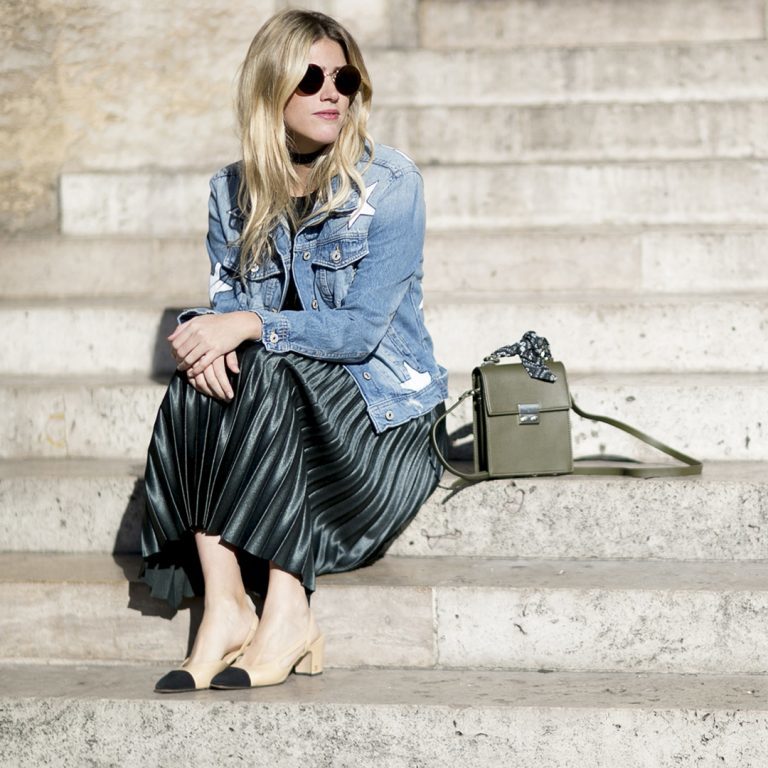 Pleated skirt outfits for the holidays
Obviously, you have to give this outfit choice a little something extra for the special season, be it a chic blouse or stand out accessories. We'll let you in on some insider knowledge and show you three of our favourite ways to wear pleated skirt outfits for our favorite season ahead.
Black Pleated Midi Skirt
To start off, keep it simple with a black pleated midi skirt. Choosing a neutral color will mean that this skirt can be worn all year round. I always imagined you would have to wear a women's pleated skirt with some dainty shoes but make the black pleated midi skirt Fall-friendly by upgrading the look with some heeled ankle boots - a metallic pair to be super on trend (find out more). This sophisticated look is completed with some stand-out accessories.
Metallic Pleated Skirt – staple for party wear
A favourite. Metallic pleated skirts are of course a great alternative to wearing a glamorous dress to a party or an event. Let the metallic skirt be the statement piece by combining with some neutral (black) pumps and party-top. If you're missing some color, choose yourself some funky earrings or a clutch.
Casual styles for women's pleated skirts
The holiday season isn't all about dressing up which is why a pleated skirt is always a great choice for when you want to some quality time with family friends. Black back florals are a popular print trend for the remainder of the year which is why I wanted to feature it in a pleated skirt outfit – combined with some cute but edgy docs and a colorful sweater to brighten up the look.
Although a black pleated midi skirt would also work for a casual look, we can't get away from leopard print skirts right now – so check out how I would wear the trend below. Add in a logo-centric white tee to wear under the cozy lined denim jacket and you're ready for Winter. 
Initially, footwear appears to be the biggest challenge when styling a pleated skirt outfit but don't be afraid to mix and match trends. Although statement boots and casual sneakers might not be an obvious choice for a midi skirt, don't be afraid to give them a try! How would you style a pleated skirt outfit? You can always show us with our lookbook feature!
Love Sophie