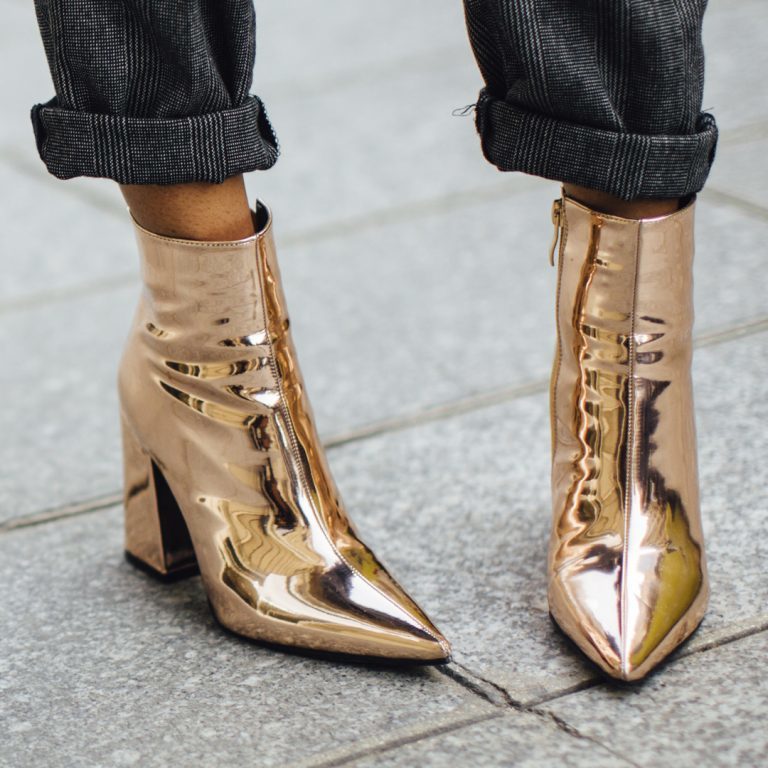 Year after year, we crave the latest trends and can't wait to start shopping to be able to bag the latest trends. This Autumn, however, we're having a blast from the past seasons. Perhaps it's the 80s influences  or fashions latest focus on furitisic styles but Metallic is more fashionable than ever! Especially shoes which sparkle in gold, silver or metallic colors and attract attention. Whether its eye-catching or subtle - we'll show you how we combine metallics shoes and reveal our favorite looks!
Combining Metallic Shoes
Metallic shoes are a real eye-catcher and should be styled to make the most of this. Put the focus of your outfit on your shoes and combine them with classic colors. As pumps, boots or espadrilles, the shimmering shoes are suitable for every style and are incredibly versatile (believe us). We have 4 looks for you today where you can wear a Metallic Beginner or Metallic Enthusiast!
#1: Espadrilles, sweater, jeans
Espadrilles are the perfect choice for a sporty but stylish look. In silver they shine on your feet and in combination with some high-waisted jeans and a lovely light pink sweater - secretly the focus of the look without being too intrusive. If looks to be a sunny day why not add a pair of sunglasses to round off your look!
#2: Loafers or pumps, suit pants, blouse
Metallic shoes are also good for the office. Your business look is focused on silver glitter pumps and create a great girlboss outfit. Whether it's silver glitter pumps or rose gold loafers, the choice is yours alone, as long as you keep the rest of look simple. Choose a black pair of suit pants and a simple blouse. A few subtle frill details will make your overall look more feminine and playful. If you're going for the metallic trend, make sure to finish it off with a shimmering metallic bag.
#3: Boots, dress, denim jacket
Not sure what the weather is playing at? It can make choosing an outfit in the morning a tricky one! A cool option for autumn is the combo of wearing boots, a dress and denim jacket. Opt for a timeless oversized black dress and a light denim jacket that works perfectly well with a pair of golden boots with thick block heels. For particularly chilly days slip on a pair of light denier black tights and wrap yourself into a cuddly scarf.
#4: Heels, dress, earrings
Obviously the metallic trend lends itself fabulously to special occasions so we had to finish off with a partywear look. A pair of rose gold shoes is a glamorous touch to an out-out look and an asymmetrical dress finishes off the futuristic fashion trend.
No matter if its everyday wear or you're heading to the office - combing metallic shoes can be very simple!
Love Sandra