Missoma, the British jewelry brand, best known for their delicate and distinctive pieces of gold and semi-precious gems, has outdone themselves once again - and I'm very excited to have the chance to have a first glance at the new collection!
The Missoma brand was born from Creative Director Marisa's excitement for gemstones; what initially started as a childhood hobby quickly developed into a goal of becoming a jewelry designer and now that's definitely a reality - as one of the fastest growing companies in the UK and expanding across the globe. 
The great thing about Missoma jewelry is that its designed to be worn alone and to be stackable - from chandelier hoops, motif necklaces, and statement rings - so I already know that they will look great alongside my own jewelry which flawlessly allows me to create unique looks.
All Missoma designs have a personal touch to them, and the latest collection is no different. Discover why Marisa was inspired to learn more about Colombian craftsmanship and how this influenced their newest range of products.
MOMPOSINA
'With its sculptural form and vibrant colors, this collection has been a work of passion and exploration into a country I feel honored to have experienced personally.' - Marisa Hordern
Momposina has been designed around Marisa's experiences to an almost-untouched historical city, Mompox in Colombia, a World UNESCO Heritage site, which has been described as being seemingly frozen in time.
The notion of travel became part of the design process, with Marisa being afforded the opportunity to hand-select gemstones to become an integral and exciting element of the jewelry. This trip took Marisa one step further, after being exposed to traditional Colombian craftmanship, the collection has been designed to celebrate the ancient traditions of this culture - and the end result is pretty stunning.

OUR MISSOMA MUST HAVES
The Art of Jewelry Stacking
A trend building in popularity, layering jewelry is a skill which you can evolve over time. There are one or two things you should consider beforehand. An expression you've heard throughout your life, less is more couldn't be more applicable to this trend - but you should always try to have one piece that should stand out in the 'layering crowd.' In my case, this is the Amazonite beaded Xavier necklace, a minty-green colored gem and a lucky talisman pendant. 
Simplicity leads to a well-designed look, but good layering is nothing without a solid base, which is why the Double Chain necklace is the perfect starting piece for jewelry stacking.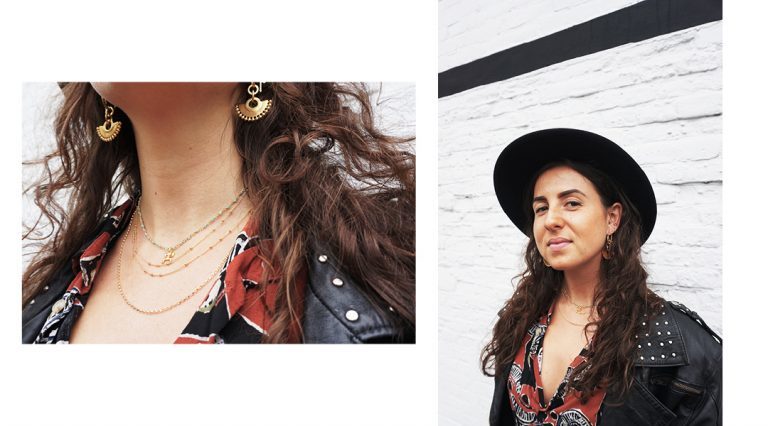 You should also think a little bit about the mood that every layer creates. For instance, two layers is for the classier appointments in life whereas three layers is more appropriate when you're trying to spice up an outfit. For example, the third layer is perfect for a diner date as it draws attention to your neck - especially when you're wearing an off shoulder top or dress.
And as for the earrings, these Momposina ones are perfect to combine with minimal earrings such as simple mini hoops and stud earrings - but you definitely want these in the spotlight! 
If you have an eye for stacking jewelry, be ready for ALL the compliments! Just remember to wear it your way.
Love Demi