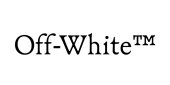 OFF-WHITE
The mastermind behind OFF-WHITE is Virgil Abloh who has successfully brought luxury to the streetwear trend. OFF-WHITE designs have been inspired through Abloh's impressive resume and mixture of jobs, from DJ to architect, which has led to him to lead a life of travel.
Find 454 OFF-WHITE products from 15 shops on SALE at Fashiola.com.
Get up to 80% off on OFF-WHITE products!